Flamingo Handshake Auction at NamesCon Austin: Friday, September 2nd, 6 pm CT, 4 pm PT
---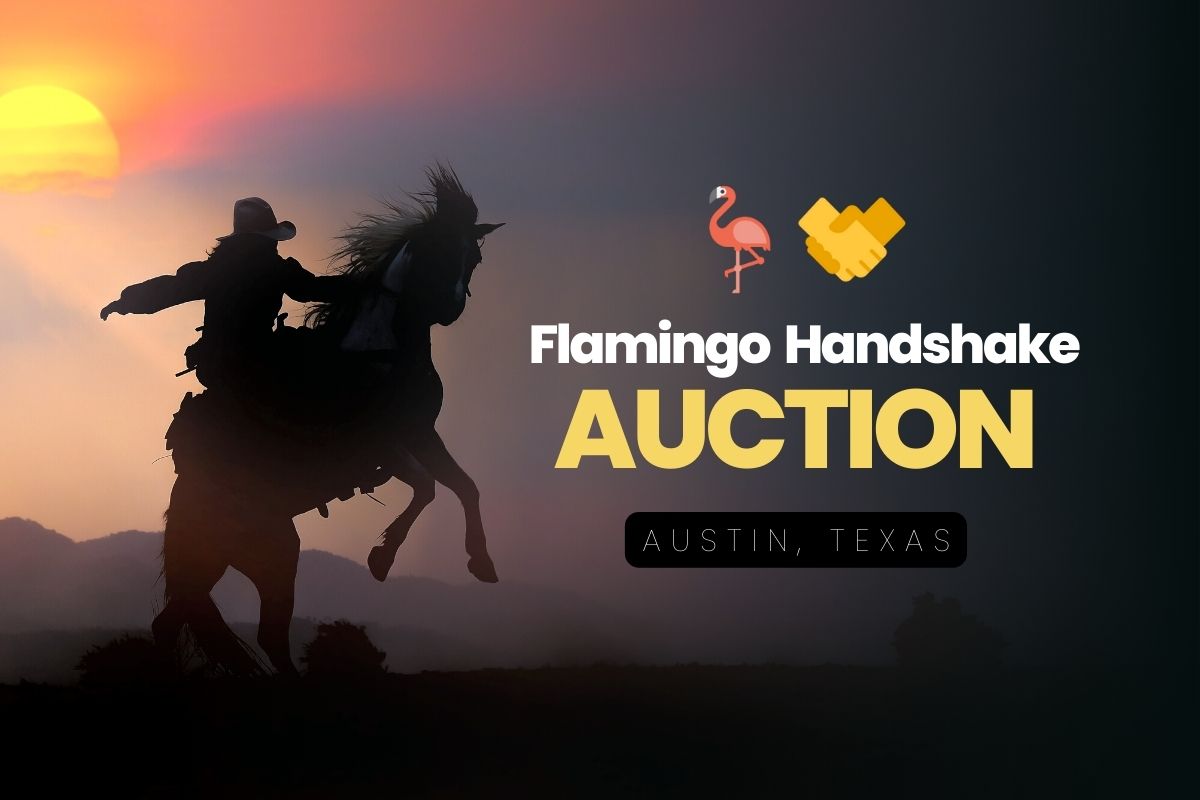 Yeeeee Hawwww!!!!!
We are excited to announce we have finally confirmed we have a physical space to host our community fundraiser - Flamingo Handshake HNS premium auction.
Shout out to Nole from heyTX.io (.tx TLD) who has gone above and beyond for the Handshake community in representing all of us at NamesCon in Austin, Texas.
So here's the deal - this will be a hybrid online and offline auction - happening on:
Friday, September 2nd, 6 pm CT, 4 pm PT
This will be immediately after the Handshake happy hour, so once you're all loosened up, make sure you keep your HNS coins ready to BID!
As always, a percentage of sales will go to benefit various development and community groups in the Handshake community - so it is going to a good cause (as well as top premium names in the ecosystem).
Format:
Our auction will be streamed online at the venue - using the same Airmeet software we have been using for our online
To bid, whether you are physically at the in-person event, or dialing in online, will both need you to register and place bids on the Airmeet software.
We expect many regulars to attend, but if this is your first time to bid, you'll need to verify with Anne/ our co-organizer once bidding.
Bids will all be in HNS coin (check coin gecko or your favorite crypto pricing platform) for settlement.
Settlement for buyers is expected to be completed within 2 business days. If more time is needed, please communicate this.
If you want to pay in BTC or ETH, we can accept this on the condition that the final bid on that auction is above 100,000 HNS. The spot price at the start of the auction will be what is used for the exchange conversion. Otherwise, please find a way to purchase HNS for settlement.
Lineup For The 1 hour In-Person Auction (6 Premium TLDs)
The in person auction is only for 1 hour. So we need to make the most of this!
6 premium HNS TLDs will be on the auction block, with no reserve, going to the highest bidder.
.e/ is one of those
More premium names are to be released to the public as the date approaches.
Additional Online Auction To Continue After
---
Once the 1-hour auction in person happening in NamesCon in Austin, Texas is complete - fret not!
We will have an additional session for more names happening 100% online immediately afterward. These will be more community names and SLDs and fun as always.
Spread the word, spread adoption of HNS, and let's have some fun while doing it.
Got questions? Email support@flamingohandshake.com